CWU Library Receives $1.5 Million Gift from Wilma Stellingwerf Estate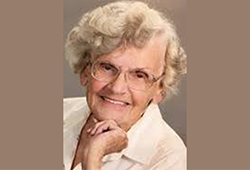 The library received the good news in mid-March that it is receiving a gift of over $1.5 million from the estate of the late Wilma (Bowers) Stellingwerf who passed away in Wenatchee, WA in November 2019. Ms. Stellingwerf, a native of Ellensburg who grew up on her family's farm, graduated from Ellensburg High School and started as a student at Central Washington College of Education (CWCE) in 1944.

While a student, Ms. Stellingwerf was an officer in the Off-Campus Women's Club and a member of the Whitbeck Club. In August 1947, she was one of 16 students who decided to teach on the war emergency certificate rather than stay at CWCE for her senior year and finish her BA degree. She taught in Wenatchee at the Whitman School. Ms. Stellingwerf graduated from CWCE in August 1948 with her BA degree in education. She went on to take additional courses to become a librarian. Ms. Stellingwerf moved to Wenatchee where she resided for the rest of her life. She taught fifth grade at Whitman School and was a librarian at Washington Elementary. She was an active resident of Wenatchee, delivering mobile meals for 35 years before retiring from it at the age of 91. She also volunteered at the Wenatchee Valley Museum, for the American Red Cross, and for the Election Board. Ms. Stellingwerf was a member for 70 years at the Saddlerock EPC/First Presbyterian Church.

"This incredible legacy will enable us to transform library services to meet the needs of our students by giving them opportunities to engage in digital scholarship, equipping them to succeed in a technological, data-driven world," said Dean of Libraries Rebecca Lubas.

Ms. Stellingwerf's generous gift will enable the library to update its library facilities as well as enhance its education and research resources.