Fabyn Hanson Exemplifies Living the Wildcat Way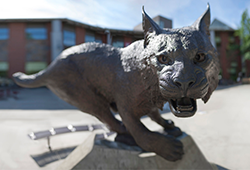 Fabyn Hanson remembers exactly how he felt when he first visited his sister's college: "I thought to myself, 'Wow, this is a very friendly campus.'"
Hanson's sister was already attending Central Washington University, which is what originally sparked his interest in attending school in Ellensburg. He remembers many challenges, great opportunities, and memories during his four years on campus, including receiving his bachelor's degree in business and economics.
Now, after retiring 11 years ago, Hanson has directed his attention to giving back to the institution who made his education possible.
"I would receive these wonderful announcements from the Alumni Association at CWU, but they all were events in Auburn, and Seattle, and Ellensburg. I knew I needed to help broaden that reach, especially in my own back yard."
A sense of pride in his alma mater has been what has kept Hanson so involved over the past several decades. He often sees what CWU is doing to elevate the university's reputation as well as helping to publicize the type of education that Central provides to its students.
"They [Central] are doing more and more to help themselves into the national spotlight, doing things to help make alumni, like myself, very proud. It creates a lot of CWU pride to see how the students treat each other and the type of people that are graduating from this institution."
Hanson continues to live the Wildcat way, but has added one more special engagement opportunity into the mix: he became a legacy donor, leaving a planned, future donation, to Central (and he is passionate about it, too).
"I strongly encourage all CWU Alumni, friends, and family to become legacy donor's."