Bill and Carol Driver Scholarship Supports Student-Athletes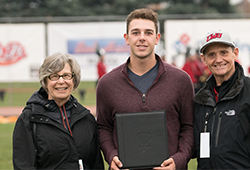 CWU alumnus Bill Driver and his wife Carol understand the impact of giving back and exhibit it in many different ways. One of which is through their scholarship, The Bill and Carol Driver Scholarship, which gives back to students participating in the Wildcat Athletic Baseball Program.
"Like many of you, as a Central Alum, I have felt for many years that I received a great deal more from Central than I have ever been able to give back. Let me encourage you to join me in changing that feeling by making Central a beneficiary in your estate planning."
Bill graduated in 1970 with a BA in health education. Not only was Bill a student at CWU, he was also an athlete, playing varsity baseball in 1968. After he graduated, Bill pursued a career in the securities and insurance industry and is currently is a Senior Vice President with the Opus 111 Group in Seattle.
Bill has been a loyal volunteer to Central and has served on the CWU Foundation Board and the Wildcat Club Board showing again how much he enjoys giving back to his alma mater.