Honoring the Past by Providing for the Future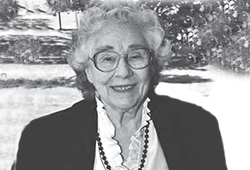 Emily Leslie, '38, '57, and '66
Emily Leslie has forged her own individual path as an educator. Arriving in Ellensburg in 1938, Leslie became a resident of Kamola Hall at Central Washington State Normal School. With teaching certificate in hand after three years at Central, she began her elementary education career in 1941 in Burlington, Washington. She returned to Central in 1957 to complete her four-year degree and again in 1966 to complete her master's in education. Leslie retired in 1986 from the Walla Walla Schools where she had taught for twenty-two years.
Leslie is now making it possible for others by creating a gift to benefit student scholarships by establishing a charitable gift annuity with the CWU Foundation. Honoring her parents, her fund will benefit the Charles F. and LuDell (Bertschi) Markgraf Scholarships for students in the CWU teacher education program.
A charitable gift annuity (CGA) is a good charitable giving vehicle for those who want to leave a legacy and need the income during their retirement. The CGA established by Leslie will mean scholarship support for CWU students and future teachers.
For more information on charitable gift annuities and legacy giving, please visit cwugift.org and be sure to contact Catherine Scarlett, director of Gift and Estate Planning, at 509-963-3083 or
[email protected]
.